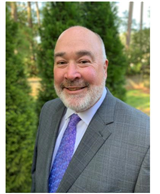 John Larson, Director of Public Policy & Economic Development at Dominion Energy
The February General Membership Luncheon meeting was held virtually on Tuesday, February 23rd, 2021 via VSRA's Zoom account. The guest speaker was John Larson of Dominion Energy.
Larson thanked the VSRA board for having him as this month's guest speaker and began his presentation with a general overview of what Coastal Virginia Offshore Wind (CVOW) is and how it works. Using simple yet effective slides showing an offshore wind power system, he detailed how the system is laid out, and how everything, from the wind turbines to the offshore substation, connect. Some key highlights included how the project will consist of nearly 200 wind turbines generating close to 3,000 megawatts in total capacity, and how this is the only offshore wind project owned by a U.S. utility.
Read the full article