RECENT NEW MEMBER COMPANIES
Platinum Painting LLC provides painting services to the ship repair industry. Includes abrasive blasting, painting and QA inspection.
Safety and Learning Solutions, www.yoursls.com, is a consulting firm dedicated to improving the safety, health and efficiency of people and the places where they live, work and learn.
Safety Suggestion Awards!
VSRA's Safety Committee is always looking for new Safety Suggestion ideas. Please review below to see if your idea meets the criteria.
Read the full article
2014 Career Day Volunteers Needed!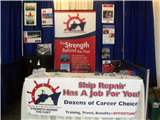 VSRA needs volunteers for our Career Day events. You will have the opportunity to attend Career Days to promote Ship Repair as a valuable asset to the community and encourage students to consider a job in the ship repair industry.
Blair Middle School - Friday, April 11, 2014, 8:30 am – 9:30am
Read the full article
VSRA & VSRF Annual Report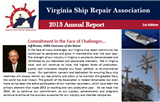 VSRA & VSRF Annual Report